Aldi's harvesting 5,000 new staff for UK expansion
The discounter is greedy for more market share as it opens up 80 more stores.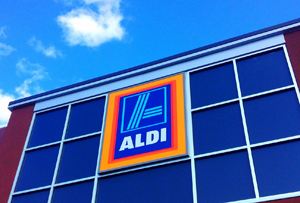 The Germans are coming, again. The supermarket discounters shaking up the sector have continued their relentless growth – recent data from Kantar Worldpanel had Aldi and Lidl's sales up 13.7% and 18.7%).
Now Aldi is opening 80 new stores as part of its expansion plans in the UK, creating 5,000 new jobs. Bad luck Tesco and co. The German-owned firm currently has 28,000 workers across more than 600 stores in the UK and the goal is to up the number of outlets to 1,000 by 2020.
It's obviously not great news for the likes of Tesco, Asda and Morrisons, already knee-deep in a price war in an attempt to fight off Aldi and Lidl. But the locations of some of the new stores suggest another retailer might be glancing over its shoulder soon too. The new wave of Aldi stores is targeting towns in middle England with openings in Poynton, East Cheshire, Eastbourne and the Establishment's favourite town of Chipping Norton in the Cotswolds – firmly in Waitrose territory.