Alibaba has created the world's biggest online shopping holiday for China's singletons
Splurging on 'Singles Day' raked in a record $9.3bn.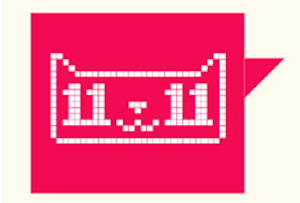 America may be the font of consumerism, but the true disciples of its latest incarnation are in China, where a record amount was splurged on this year's 'Singles Day' – a veritable orgy of online shopping created by Alibaba.

Last year's record 36.2bn yuan ($5.9bn, £3.7bn) binge was surpassed by 1.31pm Chinese time, according to Alizila, the ecommerce enormity's 'news' arm. Shoppers with severe Fear Of Missing Out (#FOMO yo) had spent 1bn yuan in the first three minutes of the 'festival' and $1bn in the first 17.


[13:31] @AlibabaGroup's 11.11 Shopping Festival exceeded total 2013 #1111sale GMV figures, RMB 36.2 billion. pic.twitter.com/SqOiHlcwRq

— Alizila.com (@Alizila) November 11, 2014


Alizila also claimed spending had overtaken the $5.29bn spent in the US between Thanksgiving and 'Cyber Monday' (aka Western retailers' Christmas) in 2013 by 11.49am (The US' National Retail Federation has that particular figure at $54.7bn – but what's a decimal point and a couple of billion greenbacks between friends?) In total, Alibaba says it processed $9.3bn of sales in the 24 frantic hours.

Also known as the '11:11 Festival' (held on November 11th every year because of those oh-so-lonely ones), Singles Day was started as an anti-Valentines' Day by university students in the 90s celebrating their single status.

It was co-opted by Alibaba five years ago in a bid to boost sales between the 'Golden Week' national holidays in October and for the Chinese New Year in January or February. The online marketplace started out offering special 11:11 deals and by 2012 had trademarked many Singles Day terms.

And Alibaba, which floated in New York in September and recently overtook Walmart to become the world's most valuable retailer at $294bn, has a pretty huge market to tap into. There are as many as 34 million more men than women (almost the population of Canada), due to China's One Child Policy and a pretty sinister cultural preference for boys.

Many young, urban working women are also choosing to stay single – and celebrating it. And why not treat yourself with some frenzied retail therapy?