Alison Brittain is off to a shaky start at Whitbread
The Costa owner's shares dipped this morning after disappointing figures.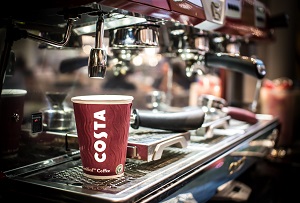 It's never easy having big shoes to fill. Just ask Alison Brittain, whose predecessor as chief exec of Costa Coffee and Premier Inn owner Whitbread oversaw a tripling in the company's share price as it flooded the country's high streets with frothy coffee.
It seems Brittain's first few months in the job haven't been as smooth as she might have liked. Costa may have been voted 'the nation's favourite coffee shop' for the sixth time in a row in December but its like-for-like sales ticked up by just 0.5% in the 11 weeks to 11 February – not a great performance for a company that's been going gangbusters. Whitbread blamed the figure on a fall in high street footfall and a mild winter – the go to excuses of any struggling retailer.
Of course it would be hard to pin the blame on Brittain, who has only been in the role for three months. And the rest of the business is looking a bit healthier; Premier Inn sales were up 2.2% on a like-for-like basis (though this was slower than before) and its smaller restaurant business, which includes Taybarns, Beefeater and Brewers Fayre, was up by 2.3%. But clearly investors were not happy as its share price opened 4% down on yesterday, before recovering a little by mid-morning.