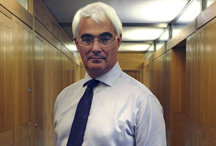 Alistair Darling rejects Scottish separation
Quote of the day: "The nationalists will go to great lengths to try and prove there is a groundswell towards leaving the UK but the truth is their campaign has been stalled.' Former Chancellor Alistair Darling today published an opinion poll showing that only 33% of Scottish voters was independence, whereas 57% are actually opposed. Speaking as leader of the pro-UK campaign, he added: 'Independence is as unpopular as it has ever been.' Careful, Darling, with rhetoric like that, somebody's boond te set aboot ye'...
Published: 25 May 2012
Last Updated: 09 Oct 2013
.
Find this article useful?
Get more great articles like this in your inbox every lunchtime