Alliance & Leicester: a smarter investor?
Alliance & Leicester issued a profit warning this morning and admitted losing millions of pounds on sub-prime mortgage investments – so naturally, its share price jumped 14%. The markets are so jittery at the moment that it's seen as good news when your losses are not quite as huge as they might have been...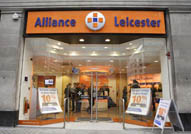 In a surprise trading update today, Alliance & Leicester said it's had to write off £55m from the value of its structured investment vehicles, while the value of its debt funds has dropped by more than £100m. As a result, its operating profit for the year would come in below analysts' expectations.
All this might sound like bad news, but the positive angle for investors was that at least the losses weren't any worse. Rumours have been dogging A&L for weeks that its finances were in almost as bad a state as rival Northern Rock, because it operates a similar business model (and because it hadn't scheduled a trading update). So a £55m loss is relatively small potatoes – hence the share price bounce.
A&L also has the advantage that it has been regularly touted as a bid target – Credit Agricole last year and Banco Santander this year, according to reports – which always help to prop up your share price.