Amancio Ortega Gaona: The shy CEO
Europe's CEOs are less given to grandstanding than their American counterparts, but no-one is more self-effacing than Amancio Ortega Gaona.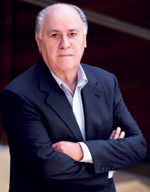 Although his name is usually greeted by blank stares, he is Spain's richest man and, according to Forbes, number 23 in the world. Yet so very low is his profile that most people have no idea who he is - and that includes most Spaniards. The only thing about him that makes any noise is his net worth: a shade under $15 billion.
Born in Leon, Spain, in 1936, the son of a railroad worker and a maid, Ortega is an entirely self-made man. His career started aged 14 as a dogsbody in a shirt store and, in 1963, he moved into textiles, making dressing gowns. Twelve years later, he opened the first shop in what became the enormously famous and innovative chain Zara, which now has 700 outlets worldwide.
Zara is renowned for the speed with which it is able to respond to changing fashions - normally, a matter of a few weeks - and it does this by keeping the manufacture of its clothes at home, rather than outsourcing to sweatshops in low-cost countries.
The Inditex group, of which Ortega is chairman and majority shareholder, turned over $6.7 billion in 2004 and has nearly 3,000 stores across the globe; its other brands include Massimo Dutti and Pull & Bear. Ortega has also made personal investments in gas, tourism and property, and has a share in one of Spain's biggest banks. Inditex is legendary for spending virtually nothing on advertising. Indeed, Ortega once refused a famous Spanish actress permission to do a photo-shoot in a Zara shop on the grounds that that wasn't how the company did things.
But this relatively lean business biography is considerably more than is known about the man himself. He is married to his second wife and has three children. He doesn't like ties and enjoys show jumping, football and wearing jeans. He made a rare public appearance in 2000, before the company's highly successful IPO in 2001, which made for surprised headlines in Spain's financial press. And that's pretty much it. Almost no photos of him exist and he has never given an interview. It is said that Ortega's shunning of the limelight is a result of nothing more than a wish to lead a quiet life.
But there is no doubt that his completely ego-free style, which extends to his business philosophy, has been enormously successful. Indeed, many have noted that all he has done is supply exactly what people want - and when you do that, there is no need to make a song and dance about it.