Amazon genuinely wants to pay more tax
Bezos giveth, Bezos taketh away: Amazon has taken a fight against sales tax to the Supreme Court, even as it backs a law to require online retailers to pay it.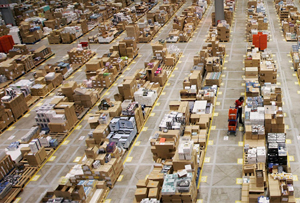 The world inhabited by Amazon is confusing at the best of times – we've already written about chief executive Jeff Bezos' aversion to profit-making.

But now the company has petitioned the US Supreme Court to hear its challenge against a law in New York State which requires it to collect sales tax – essentially a form of VAT controlled by the state government. Sounds typical of a company already accused of exploiting corporation tax loopholes in the UK – but bear with us.

What's confusing about the tax is that US federal law says companies only have to collect sales tax in the states where they have a physical presence, which means online retailers avoid collecting it in states they're not based in. But some states – New York and Illinois being the most notable ones – have introduced additional state laws that require online retailers to collect the tax anyway.

Amazon is annoyed. On the face of it, if you're a customer from, say, Ohio, on a visit to NY, you'll pay more for that book/DVD/Christmas tree in July than you would at home.

But to compound things even further, NY's law works by forcing affiliates – the small websites referring shoppers to Amazon and taking a slice of the profits – to be the ones who have to collect sales tax. Which means Amazon's network of small partners are alienated.

What makes all of this even more befuddling is that in the long-run, Bezos actually wants Amazon to collect (and therefore pay) the tax. The company has already agreed to collect sales tax in states inducing California and New Jersey.

And back in February, Bezos gave his backing to proposals for a new piece of legislation called the Marketplace Fairness Act, which will force online retailers with annual sales of $1m or more to collect sales tax in every state.

Bezos argues that he's fighting for a level playing field. Although admittedly, given its track record with corporation tax over here, fighting a sales tax in New York doesn't look good, he wants the law to be clear to all retailers – whether you're an affiliate from New York or a small bricks-and-mortar shop in the Florida Quays.

What's interesting about this is that it's an example of the horrible mess created when law doesn't keep pace with what's going on in the real world. The original law was introduced in 1992, when online retail was but a sci-fi fantasy. Now legislators are struggling to catch up.
- Image credit: Flickr/evadedave