Amazon Kindle is coming to Britain
Amazon's popular e-reader is finally going on sale in Britain, for £175. That'd buy you a lot of books.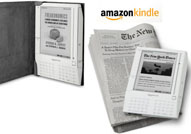 It's been a long time coming, but Amazon said today that from October it's going to start selling an international version of Kindle, its popular e-book reader. Over 100 countries, including Britain, will be able to buy the device, which has been going down a storm in the US since its launch its 2007. The publishing industry is predictably keen: it hopes that Kindle – and all the competitors that are starting to emerge – will be a shot in the arm for book sales. But with a price tag of about £175, we can't exactly see them becoming ten-a-penny.

The Kindle, if you haven't seen it, is a surprisingly neat and portable device; it's light, thin (0.36 inches), easy-to-read (there's a 6-inch electronic screen, complete with so-called 'e-ink') and has 2GB of internal memory, which is enough to hold about 1,500 books. You can download these off Amazon via the phone network, and as long as you're not hooked up to wireless networks constantly, the battery can last for up to two weeks. It's actually this wireless aspect that has caused the long delay before the launch of an international version – Amazon has been haggling with the mobile companies for ages, and has only managed to get round the problem by using 3G networks and operating through AT&T's European partners.

The idea of reading a book on a screen probably still strikes a lot of you as intrinsically weird; that's certainly our feeling. But the concept has been a big hit in the US. Although there's been no official word on how much money Amazon's making from the Kindle, some estimates suggest it could be as much as £300m – and Amazon itself said it expected to shift a million of the devices by the end of the year. This has also resulted in a big increase in e-book sales, which more than doubled in the first half of the year: Amazon reckons it now sells 48 e-books for every 100 printed versions of a new title, and its stock has now expanded to about 300,000 in the US. Newspapers, desperate for a new source of sales, are also clambering on board.

It'll be interesting to see whether the concept goes down equally well in Europe, which we suspect is likely to be a bit more snobby about the idea of reading Jane Austen in e-ink. And for the time being, the biggest barrier to the Kindle's success will be price: £175 is a lot of money to pay for something that, unlike the all-conquering iPod, isn't backwardly compatible with your existing collection (i.e. you can't put your library on it). We'd love to hear your views...

In today's bulletin:
BA bruiser Walsh picks fight with unions over job cuts
Amazon Kindle is coming to Britain
Sainsbury sounds cautious note as sales growth slows
Honesty is the worst policy for financial results
Route to the top: Six ways to swallow your pride