Amazon passes the parcel to high street stores
The online giant has launched a same day pick up service, plans to hire 1,000 new UK staff and announced an exclusive deal with a Cambridge gaming company. Standard.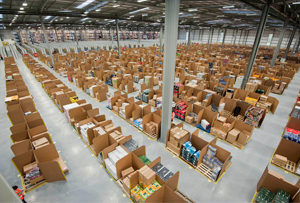 Timing's a strange thing when it comes to big corporations. Announcements, like buses, make you wait, then they come all at once. Perhaps Amazon making three unrelated announcements in the last few days is a coincidence, or perhaps it's just jealous of all the attention Microsoft boss Satya Nadella is getting for his, ahem, comments on women in the workplace.
Amazon's biggest news is its roll out of a same day pick up service at 500 'Pass the Parcel' locations across the UK. In partnership with Connect Group's newspaper and magazine distribution arm, Smiths News, the US firm will deliver to newsagents, convenience stores and its Amazon lockers by 4pm, so long as the order was made before 11.45am. Orders before 7.45pm can be picked up from 6.30am, and the service will initially be free for Amazon Prime customers.