Amazon is paying Clarkson £10m
The former Top Gear presenter is set to get a 1,000% pay rise for joining Amazon's new car show.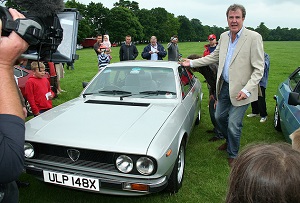 Say what you want about working conditions at Amazon, but it certainly pays well. Former Top Gear presenter Jeremy Clarkson will get a cool £800,000 an episode for his new TV show for the tech giant, according to reports in the Mirror. That's £10m in total - 10 times his wage at the BBC.
Clarkson – and fellow presenters James May and Richard Hammond, who will earn somewhat less – really has landed on his feet since departing the BBC following a 'fracas' with production staff over his culinary arrangements. Given the tough working environment Amazonians are reportedly used to, he should fit right in.
When Amazon nabbed the trio and producer Andy Wilman for £160m a month ago, boss Jeff Bezos said they were 'very, very, very expensive... they are worth a lot, and they know it'. There's a reason they're worth quite so much to Bezos though. He's not paying out millions just to keep the talent happy – this is all about Prime.