Is Amazon planning to build high street shops?
Apparently Amazon isn't content with online only retail and wants to set up shop in New York, literally. But is that a good idea?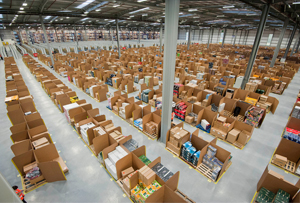 E-tail colossus Amazon is going to open a brick and mortar shop opposite from the Empire State Building, according to a report by the Wall Street Journal. Citing unnamed sources (those guys get everywhere), the report said the store would be open in time for the insanity of New York Christmas shopping. Amazon, it should be noted, has refused to comment.
Hold on a minute, you ask. Isn't Amazon the internet beast that savaged the high street with its low prices and near-infinite range? Isn't its business model based on not having to run actual shops with pesky costs like city centre rents and sales assistants' salaries?
Yes and yes. But Amazon is also relentlessly expansionistic. It started off only selling books, remember. Owner Jeff Bezos has transformed the site over the last fifteen years into an online bazaar flogging wares from electronics and toys to home gyms and spare tyres, and he's not stopped there. It's also set up a (small) physical presence on the high street, with its Kindle vending lockers.