Amazon could be planning to open hundreds of bookshops
Having laid waste to bricks and mortar it seems the ecommerce giant is waking up to the value of a physical presence.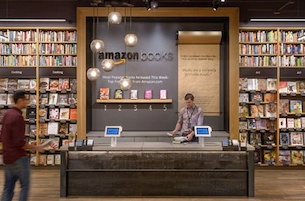 Well that's a change of tack. Amazon, which revolutionised book sales and has been blamed for the demise of independent bookshops the world over is reportedly planning to open as many as 400 bookshops. Yes, real life bookshops with staff, shelves and tomes made of actual paper.
The ecommerce giant hasn't officially confirmed the news, which was revealed on an analyst call by the chief exec of US shopping centre operator GGP, but there have been signs such a move has been in the works.
In October Amazon opened a single experimental shop in its home city of Seattle, stocked with 6,000 books primarily chosen based on their ratings on the retailer's website. 'Amazon Books is a physical extension of Amazon.com,' the VP of Amazon books, Jennifer Cast, said at the time. 'We've applied 20 years of online bookselling experience to build a store that integrates the benefits of offline and online book shopping.'