Amazon raises $3bn through bonds
In a move that will set traditional publishers a-tremble with even more fear, Amazon has raised $3bn through a bond sale. Maybe it will be able to afford some more corporation tax, now?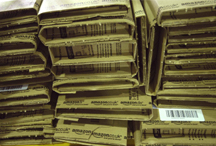 Amazon took advantage of record low borrowing costs on Monday, raising more than $3bn in a bond offering to offset the costly effect of a massive investment drive.
It sold $750m of three-year notes at a rate of 0.65%, $1bn of five-year notes at a rate of 1.2% and a further $1.25bn of 10-year bonds at a rate of 2.5%.
Moody's gave the bonds a 'Baa1' rating, saying that Amazon's 'good liquidity and strong balance sheet' made it a solid investment. But last quarter, firm posted a loss, meaning the rating was not as high as it could have been.