Amazon shareholders are really annoyed with Jeff Bezos
Amazon's dismal Q3 results send shares down 11%, but Bezos keeps spending.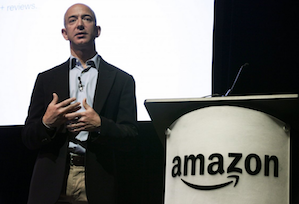 It's in the nature of losses that they demand explanation. If you lost your friend's car or aerial delivery drone, say, you'd have to tell them what happened and what you were going to do about it. You might even think about apologising.
Amazon's losses in its third quarter to September 30th were $437m (£271m), and yet its results statement last night focussed instead on the very string of initiatives that hit the bottom line in the first place.
Investors could read all about the new Kindle Kids' Book Creator and 3D Printed Products Store or the expansion of Amazon Fresh to Brooklyn and Amazon Web Services to Frankfurt, but one imagines they may have been more concerned with the harder facts quickly unloaded at the beginning of the statement.