Amazon's European ambitions show no sign of tapering off
The ecommerce giant is creating another 2,500 jobs in the UK.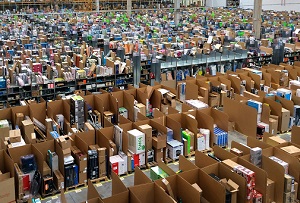 You might think of Amazon first-and-foremost as a retailer, but the tech giant's ambitions stretch way beyond getting books, films and other knickknacks to your door. The Seattle-headquartered firm says it hired another 10,000 workers in Europe last year and plans to take on another 2,500 in the UK 2016 - and they won't all be put to work packing boxes in gargantuan fulfilment centres.
'[We] plan to create several thousand more [jobs] in 2016 at all education, experience and skill levels, from speech and linguistic scientists to digital media experts to fulfilment centre and customer service associates,' said Xavier Garambois, its VP for EU retail.
As well as expanding its retail operations the company is keen to beef up its Amazon Web Services division (a cloud computing service for businesses), get more consumers using its Fire tablets and sign up subscribers to its Prime scheme, which offers online video and music streaming and ebooks, as well as free next-day delivery.