Amazon's growth or profit dilemma
The Cloud is raining dollars on the e-behemoth, but that's putting a new pressure on Jeff Bezos to return value to shareholders.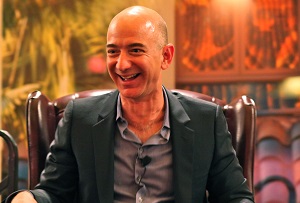 One of the early names Jeff Bezos considered for his business in 1995 was relentless.com. It's an apt address, and one that still redirects to Amazon's US site. The firm's feverish conquest of global retail has made Genghis Khan look dilatory. It's grown from nothing to an $107bn (£74bn) business in just over 20 years.
The internet is eating the world, and Amazon's right in the middle of the feeding frenzy. It's devoured much of the book industry, and has steadily expanded into more or less all other forms of retail, even fresh food (rather ominously for the Big Four grocers, there's talk of it entering that market here by buying Ocado).
Amazon's glorious onward march has been marred, however, by one teensy, tiny problem. Profits have always been elusive, or at best meagre.