Amazon's Nazi ads pulled from New York
For some reason, officials in the Big Apple thought these tasteful subway skins promoting Amazon's show The Man in The High Castle weren't a good idea.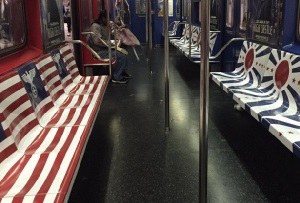 Certain blunders show such a lack of foresight that they inspire disbelief more than condemnation. Not seeing the obvious (calling your son Ivor might have implications once he gets to school, Mr and Mrs Biggun) is perhaps an understandable human error. Not getting a second opinion on important decisions is less forgivable.
One wonders whether the folk promoting Amazon's new show The Man in the High Castle in New York had thought to ask anybody outside the office (literally anybody - their dental receptionist or the guy who delivers their bagels would do) before putting these up in the city's subway.
Amazon takes over New York Subway and decorates it with Nazi insignia https://t.co/iYUARsvfN2 pic.twitter.com/Oe23TxOouJ