American government changes its privacy settings
US spy chief James Clapper has admitted the NSA accessed personal data through major websites - but only for 'non-US persons'. Eeek.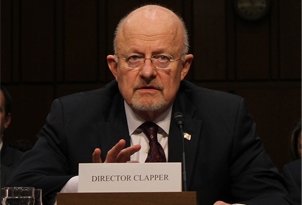 Eh up - things have all gone a bit James Bond Stateside, where the government is being accused of, essentially, accessing people's personal data without permission.

Accusations started flying late last night, when the Guardian alleged that a secret court order had forced US phone company Verizon to hand over phone records to the National Security Agency on an 'ongoing daily basis'.

Then the Washington Post published details of a shady programme known as 'Prism', which tapped into the servers of internet firms – including Microsoft, Google, AOL, Skype, Apple, Facebook and YouTube – to track people's online activities.

Now the NSA has admitted that, yes, it's been secretly harvesting millions of phone records – but it added, rather conveniently, that disclosing anything else 'threatens potentially long-lasting and irreversible harm to our ability to identify and respond to the many threats facing our nation'. Yeah, yeah. If only PLCs had the same excuse when they got into hot water…

Naturally, the firms in question deny everything, saying they have absolutely no knowledge of the programme and haven't given anyone access to any customer without it being subpoenaed first. 'If the government has a broader voluntary national security programme to gather customer data we don't participate in it,' a Microsoft spokesperson said. Well, not knowingly, anyway…

US Spy chief James Clapper has conceded that, yes, the NSA does dabble in the odd bit of hacking – but that the policy only targets 'non-US persons'. As if that was supposed to make the rest of us feel better…

It's a difficult one, this. On one hand, the idea of a government invading our privacy is pretty abhorrent – MT would rather Barrack Obama didn't know quite how many kitten gifs it looks at each day. On the other hand, if someone's Googling 'how to build a nail bomb', it would be nice if someone in a position of power knew about it.

It's an odd policy, though. Here in the UK, there's been fierce debate about the so-called 'snoopers' charter', which would allow the government to track people's email and social media use. But at least there is debate. Prism, however, was conceived in secret after 9/11. And we'd be interested to know how many times evidence from the programme has been used in court – if there's one thing we've learned from Homeland and The Wire, it's that evidence obtained using dodgy methods like this isn't often admissible.
- Image: Flickr/Medill DC