Angela Merkel calls for 'full fiscal unity' to save the eurozone
'Europe is in its toughest hour since World War II,' says the German chancellor. But there may be salvation in unity.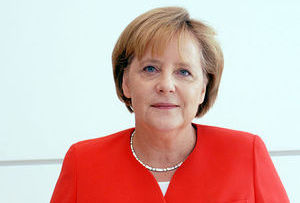 It's an interesting position for Merkel to take. Germany is already under a whole lot of pressure from its taxpayers for underwriting so much bail-out debt. Even the extra £5bn-worth of tax relief for German citizens announced last week won't sweeten the pill for too long. Germany may have 'found' an extra £14bn in predicted tax on its books (rather like finding a £50 note stuck under your mattress, we suppose) but signing up for more fiscal unity – and ultimately more risk – seems like an unusual stance for the risk-averse chancellor.

That said, there is a lot at stake. Merkel has already hinted that the end of the euro could mean war for the eurozone nations. She has tempered her words since that rabble-rousing statement, but the import remains the same: 'If the euro fails then Europe fails, and we want to prevent and we will prevent this, this is what we are working for, because it is such a huge historical project.'

But is this all hot air? The German government has blocked policy changes that would seemingly fulfil this 'united fiscal policy' mandate. Merkel alongside the Bundesbank have put the kibosh on plans to issue common euro zone bonds and spread the eurozone's debt stock across all sovereign nations. Additionally, Germany (alongside some ECB stakeholders, admittedly) has banned the ECB from creating new money to prop up the eurozone, or act as a lender, be it directly or via the rescue fund. But the fact remains that unity rather than collapse would probably serve German interests better, despite short-term costs.
So how precisely does Merkel expect unity to be achieved?
Alas, she neglected to say.

The markets have been bouncing around like a rubber ball today. This morning, there was a positive reaction to the news that both Italy and Greece have new governments under 'technocrats' (as opposed to career politicians) Mario Monti and Lucas Papademos, both of whom are busily assembling cabinets – not the IKEA kind. But then blasted Silvio Berlusconi threatened to stand for re-election and all was turbulence again (stick to your bloomin' croonin', Silvio!). The ex-PM is a thorn in Italy's side as it fights to keep its debt under control. At a bond auction held today, the Italian government managed to raise £2.6bn, albeit at the euro-lifetime record of 6.29% interest. Ouch.

Poor old Papademos is having a dreadful time over in Athens. He faces a confidence vote on Wednesday and it's pretty clear that he's on shaky ground: despite his assertion that he will not subject the Greek people to further austerity cuts, his plans for growth are still as crumbly as a Hellenistic statue.

And now everyone's back to worrying about France. It doesn't help that our chancellor, George Osborne, has been rolling out the same Francophobic patter on the subject of credit ratings at his last few speaking engagements. In order to prove the robustness of our economy, he enjoys waxing lyrical about how France has had to call two emergency budgets in the last three months. It's a kind of political schadenfreude.

Amid all this tittle-tattle and vying for power in the eurozone, the EU leaders are up against the clock. They have until a summit on December 9 to come up with a genuine and convincing euro strategy, supported by genuine - and massive - financial backing. Ho hum.