Angela Merkel vows to stand by 'suffering' Greeks
The German chancellor has made her first visit to Athens since the start of the sovereign debt crisis. Addressing hostile crowds in Syntagma Square, she said, 'I have not come here as teacher or judge. I come in the full awareness that the Greek people are going through a difficult period, and that many are suffering badly.'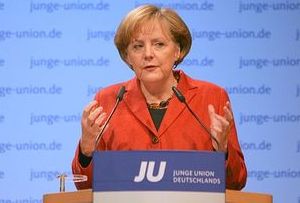 Angela Merkel has proved herself a latterday Iron Lady. Through Nazi insults, boos and rampant animosity, she gave a speech to Athenians yesterday, commending the Greek people for their fortitude throughout the crisis and promising that Germany would continue to stand by the beleaguered country.
'You are making progress,' she said. 'You are coming to grips with the hard task ahead.' This rather schoolma'amly message of support comes after months of wrangling over austerity measures and cuts. Greece, now in its fifth year of recession, has seen its economy shrink by 22% with youth unemployment at a record 55%.
Merkel promised the baying crowds that Germany is committed to the bloc and fiscal union. 'It is in all our interests to ensure that Europe regains credibility, and to make it clear that we members of the eurozone can solve our problems,' she said. It's a nice bit of rhetoric, but will it stand the test of time?