Antonio Horta-Osorio's salary rises to £1.1m - and falls to £8.5m
The Lloyds boss is being well rewarded despite PPI charges pulling the bank's 2015 profits down to £1.6bn.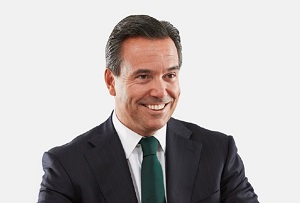 It's more or less impossible for a bank chief to get a pay rise without someone complaining. Memories of 'Wolf of Wall Street' era bonuses are firmly engrained. But should we begrudge Lloyds boss Antonio Horta-Osorio his first pay rise in five years? The bank has announced his base salary will rise 6% to £1,125,000 in 2016 - 4% above the increase for most of Lloyds' other employees, from cashier to executive director.
This isn't a case of fat cat back-scratching. Horta-Osorio's salary was below market rates when he joined Lloyds in 2011, reflecting the politically sensitivity of a struggling bank in large part owned by the taxpayer. Now that the government's stake is down to 9%, it's only natural for that restriction to be relaxed.
Besides, Horta-Osorio has actually taken a pay cut of sorts. Taking into account share awards, particularly those vesting under Long Term Incentive Plan (LTIP) schemes, his total pay was £8,539,000 in 2015 – down 21% from the year before. Executive remuneration is a funny business, not that this will cheer Lloyds' other employees up much.