AOL Time Warner boss apologises for 'worst deal of the century'
Ex-CEO Jerry Levin says sorry (finally). And he wants the villains of the credit crunch to do the same.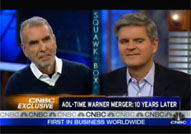 Better late than never: a decade after the disastrous merger between AOL and Time Warner, former CEO Gerald Levin has apologised for presiding over 'the worst deal of the century'. Appearing on CNBC (along with former AOL boss Steve Case), Levin said he was 'really very sorry about the pain and suffering and loss that was caused'. What's more, he also suggested that the leaders of other failed companies like Lehman Brothers and Bear Stearns should start apologising too. Maybe they'll do it in ten years' time…

As the boss of Time Warner at the time of the ill-fated deal, Levin effectively sold this famous company for $164bn worth of AOL stock, the value of which had been hugely inflated by the dotcom boom. In the coming years, the shares of the combined company plummeted by 90%, destroying billions of pounds of shareholders' money and thousands of jobs, and eventually the merger was reversed. So he has plenty to apologise for – although a decade on, we suspect his investors will see it as too little, too late (as Levin himself admitted, to be fair).

But although he's a belated convert to the idea of penitence, Levin is now embracing it with gusto. Not content with his own mea culpa, he wants the latest generation of business leaders to follow suit and apologise for their own role in the financial crisis. 'Where is the stand-up leadership that's going to take responsibility for what's happened and do something about it?' he moaned. It's a question he could arguably have asked himself a little earlier; after all, this apology is all very well, but it's not as though he can do anything about the mess he created now.

One interesting point was Levin's analysis of AOL Time Warner's biggest problem: that it tried to do too much, and ended up becoming far too unwieldy. 'It was not a supermarket, it was a [shopping] mall,' he admitted. And he argued that some of today's corporate behemoths – specifically Citigroup, AIG and (more controversially) GE – have exactly the same problem. AOL Time Warner might be seen as a notoriously rubbish deal now, but have the lessons really been learned?

We agree with Levin that leaders should be more willing to take responsibility and apologise when they get it wrong (so it's even more important when they get it really badly wrong). But we're not convinced it will ever happen. It's human nature to blame others, and in most cases they'll be too worried about legal liability, or their next job. Look at Levin; he's completely out of the game these days (he runs a retreat in California), but it's still taken him ten years to apologise...

In today's bulletin:
John Lewis and Next bring festive cheer with bumper sales
Kraft sweetens Cadbury bid as Nestle distances itself
AOL Time Warner boss apologises for 'worst deal of the century'
Editor's blog: Paddy Power has a funny idea of the 'craic'
A Life of Enterprise: Sleep your way to success