Appealing to emotions, with YouTube
Lessons in pulling heart-strings, with the Day Today, the Onion and Funny or Die.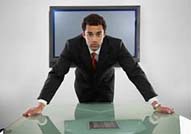 The economy may be going to hell in a handcart, but a little positivity never does any harm, especially in times of adversity. This burst of patriotism from the Day Today shows what a rousing effect something as simple as the sound of strings, and a few uplifting images, can have in a time of crisis.

Appeal to the emotions of your customers, and you'll get far. Especially in tough times. Politicians know this better than most. In this clip from the Onion, Barack Obama promises to prevent America's low-paid jobs disappearing overseas.
Pulling heart-strings can dig you out of deep holes. After watching Funny or Die's Save a Mega-Firm Miracle Fund, who can fail to want to help an ailing firm with a bit of spare change?