Apple becomes 'most valuable' firm in corporate history
Already the world's most valuable company, Apple has now surpassed Microsoft as the most valuable firm in history. Ahem.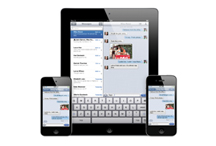 Apple evangelists will tell you that the firm has always been the best consumer electronics company, despite its turbulent history and the fact that just 15 years ago it was on the verge of going bust. But every dog has his day, and today Apple is the most valuable company in the history of capitalism, with a market capitalisation of $624bn.
This comfortably exceeds the previous record set by Microsoft in 1999, at $621bn, and is a pretty swish legacy for the late CEO and founder Steve Jobs to leave behind. The news is also a victory for the die-hard Apple fans, since Microsoft was Apple's nemesis, almost crushing it during the '80s and '90s.
But we're rather sceptical about it at this end, because the figure is not adjusted for inflation. That means that it is only in cash terms that Apple has broken the record.