Apple CEO Tim Cook: 'I'm proud to be gay'
Cook has spoken openly about his sexuality for the first time.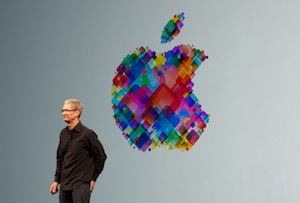 Apple CEO Tim Cook has spoken publically about his sexuality for the first time today in a moving article in which he highlighted the plight of gay people in the US.

'Let me be clear: I'm proud to be gay, and I consider being gay among the greatest gifts God has given me,' he wrote in an article on Bloomberg Businessweek. 'Being gay has given me a deeper understanding of what it means to be in the minority and provided a window into the challenges that people in other minority groups deal with every day.

'It's made me more empathetic, which has led to a richer life. It's been tough and uncomfortable at times, but it has given me the confidence to be myself, to follow my own path, and to rise above adversity and bigotry. It's also given me the skin of a rhinoceros, which comes in handy when you're the CEO of Apple.'

Cook's sexuality has been something of an open secret in the tech industry for years, and he had told many of his staff, but he had not chosen to speak in public about it before today.

'If hearing that the CEO of Apple is gay can help someone struggling to come to terms with who he or she is, or bring comfort to anyone who feels alone, or inspire people to insist on their equality, then it's worth the trade-off with my own privacy,' he said.
He used the moment to draw attention to the plight of gay people in some US states, many of which do not have laws to protect against discrimination on the basis of sexuality.

'We'll continue to fight for our values, and I believe that any CEO of this incredible company, regardless of race, gender, or sexual orientation, would do the same. And I will personally continue to advocate for equality for all people until my toes point up,' he said.

In an ideal world Tim Cook's sexuality wouldn't be big news, but for the boss of the world's most valuable company to speak so openly about being gay is an important step towards a more equal world.