Apple iPhone soars but can't stop continuing profit slide
Apple has reported bumper iPhone sales but profits have dropped thanks to slimmer margins.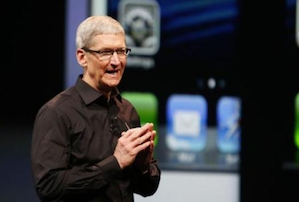 Tim Cook took to the stage in San Francisco last night to deliver Apple's quarterly results to the usual rapturous reception. But his gleeful assertion that 'business was stronger than ever,' thanks in no small part to a 26% rise in iPhone sales, was marred by news profits had fallen for a third consecutive quarter as margins fell.

Annually, revenues had grown 9%, with the fourth quarter delivering 4% growth to $37.5bn but even a strong finish couldn't stop annual profits from dropping to $37bn from $41.7bn last year.

Stiff competition from the likes of Samsung has put pressure on Apple to reduce its prices, the launch of the cheaper iPhone 5C is a case in point, and Apple warned it is likely to see margins continue to fall in the run-up to Christmas.

Gross margin on Apple products was predicted to be less than analysts were anticipating, at 36.5% - 37.5%. Apple's chief financial officer Peter Oppenheimer put this down to increasing manufacturing costs.

This news will presumably fuel the Apple doom-mongers and their predictions the computer giant has had its moment - we can hear the 'end is nigh!' cries from here.

The plucky iPhone was the saviour of the day – this was Apple's first set of results to include the newly launched iPhone 5S and 5C – which pulled in record sales of 34 million in the final quarter, including 9 million new handsets in their first weekend on the shelves. The iPhone sales figure was better than expected and seven million higher than last year.

Other products failed to deliver sales growth though – iPad sales remained fairly flat at 14.1 million compared with 14 million last year and Mac sales only hit 4.6 million, a fall from 4.9 million in 2012.

Despite the mixed news, Tim Cook's unwavering positivity has won over the markets – shares are currently trading up 0.74% following a minor dip in after hours trading.

'We're pleased to report a strong finish to an amazing year with record fourth-quarter revenue, including sales of almost 34 million iPhones,' said Cook.

'We're excited to go into the holidays with our new iPhone 5c and iPhone 5s, iOS 7, the new iPad mini with Retina display and the incredibly thin and light iPad Air [and] new MacBook Pros.'

Perhaps it was Cook's masterful hints of a new, magical device like nothing ever seen before, which cheered markets the most: he said Apple would introduce 'great new products in areas where [it does] not participate today'. Wrists at the ready, he's probably talking about the feverishly anticipated iWatch. Or maybe an iTV set. MT will wait patiently for the iVroom sports car – well, we can dream can't we?