Apple leads tech charge on list of opinion-formers
From gadgets to social networks, technology companies rule the roost when it comes to innovation.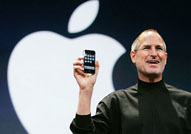 Apple's sleek and shiny phones, MP3 players and laptops have not only made it the biggest winner in the style stakes – it's also the world's most influential company, according to a new thought leadership index. Apple has just been named as the organisation most likely to change opinion and markets, knocking search company Google off the top spot. In fact, it's a sign of the times that tech companies dominate the index: seven out of the ten companies deemed to be the most innovative and influential in the UK come from the sector. Who said technology was just for geeks?

The Thought Leadership Index 2009 was compiled by the TLG consultancy and Populus, who asked 1,000 chief execs and business leaders to rank organisations on five criteria. These included things like how far they challenged conventional thinking, how novel their approach to new products and business was, and to what extent the company provided the service it said it would. Given these criteria, it's perhaps no wonder that internet and technology companies came up trumps; apart from the top two, the top 10 also includes Microsoft, Amazon, Facebook and social networking tool du jour, Twitter.

More surprising are the three non-tech companies that also make the top ten: pharmaceutical giant GSK, the Co-operative, and Marks & Spencer. It might seem a bit odd to see a company like the Co-Op rubbing shoulders with super-cool brands like Apple, even if it has had a good year (with profits up 17%). We can only assume it's because the supermarket has bolstered its reputation lately by making great play of its 'ethical credentials', with campaigns around climate change and global poverty. Similarly, the success of M&S may well be down to its high-profile 'Plan A' ('because there is no Plan B' – a super-smooth Stuart Rose-ism if ever we heard one).

Speaking of do-gooders, respondents were also asked to rank the most influential non-profit organisations. And even here the tech sector supplied the top dog: the Bill and Melinda Gates Foundation took top spot, followed by Help for Heroes in second and then The Prince's Trust tied in third with the BBC World Service and last year's winner, Amnesty International.

But the poll is likely to prove painful reading for the Labour Party – the Tories are ranked at number 10 on the list of non-profit thought leaders, with Labour nowhere to be seen. If the bookies are to be believed, this might not be the only Number 10 the Conservative Party occupies in the coming year.

In today's bulletin:
Lloyds to replenish its coffers with record £13.5bn rights issue
Even the management can't save Borders
British Gas in 'accurate bills' shock
Apple leads tech charge on list of opinion-formers
The Parent Project: My little secret