Apple revenues hit $234bn
The world's most valuable company steps up its share buyback programme as growth in China propels it to a record year.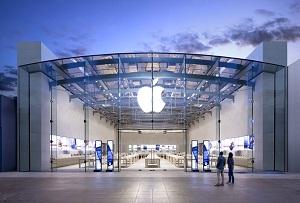 It's easy to expect too much of Apple, but when it delivers, it really delivers. The world's most valuable company reported a 28% rise in revenues for the year to the end of September, to a whopping $234bn (£152bn). Net income, meanwhile, rose 35% to an all-time high of $53.4bn.
Fears that the slowdown in China might have dampened the company's growth appear so far to be premature. The country may have lost its appetite for copper and iron ore, but by and large it's still hungry for iPhones. Sales there nearly doubled year-on-year to $12.5bn, while worldwide the company benefited from a surprisingly high number of converts from Android, accounting for 30% of the 48 million iPhones sold in the quarter.
Boss Tim Cook was upbeat too about the crucial Christmas period, singling out the iPhone 6s, Apple Watch and Apple TV, but the company's guidance was somewhat more grounded, predicting only a modest increase in revenue for the next quarter to between $75.5 billion and $77.5 billion.