Apple rings in China iPhone deal
Has the company broken China, or is China about to break it?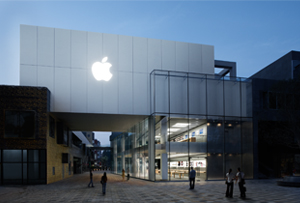 While British pop bands still dream about breaking America, if you're a technology (or, if we're honest, pretty much any) firm, the real money is in China. Apple may be so desirable in the country that teenage boys are willing to sell their kidneys to get their hands on an iPad, but in reality, stiff competition from cheaper rivals has meant the company hasn't made quite the waves it would have liked to.

Until now, that is. In a statement overnight, Apple announced that it had signed a 'multi-year' deal with China Mobile, the country's - nay, the world's - largest mobile network, to provide the iPhone 5 and the iPhone 5c to the network's 760 million customers.

Will the deal make the iPhone more desirable? A study by IDC in September suggested 360 million smartphones would be shipped in 2013, rising to 450 million in 2014, although just 120 million - just over a quarter - will be 4G smartphones.

But China Mobile is clearly preparing itself for the 4G onslaught: 'China mobile now has over 1.2 million… 4G base stations and over 4.2 million Wi-Fi access points,' said Apple's statement. 'China mobile is rolling out the world's largest 4G network. By the end of 2013 [its] services will be available in 16 cities.' By the end of 2014, it'll be available in 240 cities. So the appetite for 4G will clearly be there.

But the most popular models are by Samsung, Lenovo, Coolpad, ZTE and Huawei, in that order. Samsung alone has an 18.5% share of the market (although 'other' makes up 45%, which suggests the smartphone market is a lot more diverse than in the UK). And the iPhone will, according to Citi analysts, be one of 20 new 4G phones being launched by China Mobile in the first six months of 2014. With an average price of about $165, most will sell for far less than the iPhone.

So whether the deal will make a lot of difference in the country is anyone's guess. Some reckon it could lead to 30 million sales, Bank of America Merrill Lynch thinks the figure will be less than 10 million.

Alas, Santa is unlikely to be delivering many iPhones in time for Christmas: although customers can register their interest now, the phones won't be available until 17 January. Just in time for Chinese new year.