Apple ripe despite downturn
Apple has announced its best-ever quarter. Microsoft must be sick to the core.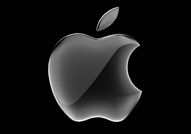 Strong sales of the iPhone and Macintosh have helped the painfully trendy tech giant achieve record net profits - $1.67bn for the three months to the end of September. That's up an incredible 47% on same time last year
The company managed to sell a whopping 7.4m iPhones during the quarter, proving that not even a global economic downturn will come between Apple fans and their need to have a handheld device that can simultaneously send them swine flu alerts and simulate fart sounds.
Indeed, its rivals in the handset stakes will be marvelling at how Apple does it. Not so long ago the likes of Nokia and Sony Ericsson were sitting snug at the top of the mobile tree - now they're stuck between the low-end and Apple's high-end and they're struggling. Sony Ericsson for one went from an annual growth rate of 10%, to a 10% decline as the recession bit.