Apple scrap more than a Flash in the pan
Adobe founders fight back in the row with Apple over whose software is best. So there.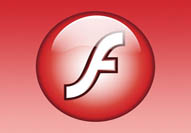 Adobe and Apple's squabbling over Flash threatened to escalate to playground levels yesterday, after the software company published an open letter defending itself against a highly critical 1,600 word missive from Apple founder Steve Jobs last week.

Adobe's founders, John Warnock and Chuck Geschke, signalled that they were not going to take this lying down by running ads in US newspapers and websites which linked to their letter. It proclaimed: 'We love Apple. We love creativity, we love innovation, we love apps, we love the web… What we don't love is anybody taking away your freedom to choose what you create, how you create it, and what you experience on the web'.

So what's all the fuss about? The bickering began after Jobs attempted to justify his decision not to include Adobe's Flash software on its recently-released uber-gadget, the iPad. Flash is widely used on the web for video and animation. His argument? That with new tags and jazzed-up functionalities, the soon-to-be-officially-released updated basic coding language HTML5 would render Flash obsolete.

Jobs also listed security, reliability and power consumption among the reasons he didn't include Flash in the software bundle on his devices. 'Adobe claims that we are a closed system, and that Flash is open, but in fact the opposite is true.'

Hmm. Pots and kettles spring to mind. Adobe's hitback, published yesterday, did indeed accuse Apple of being a closed book – but was otherwise rather less inflammatory. Adobe defended its software and approach, stating that 'consumers should be able to freely access their favourite content and applications, regardless of what computer they have, what browser they like, or what device suits their needs'.

Apple fanboys may be gearing themselves up to crowd around Jobs and chant 'fight, fight, fight', but we're not sure Adobe has too much to worry about yet. Jobs himself pointed out in his letter that 'Mac users buy around half of [Adobe's] Creative Suite products', while the day the letter was published, Apple saw a 2% drop in share prices. Adobe, on the other hand, surpassed first quarter estimates this year, announcing revenues of $858.7m – a climb of 9%.

Still – in the battle of the geeks, we're looking forward to what will come next. `Particularly ironic has been the two tech giants choice of battleground so far - the distinctly analogue media of letters and magazine ads. Surely it's time for a tweet-off, or a 'Jibe at Jobs' Facebook app? Or even a virtual fight-out on the rolling hills of Azeroth – the setting for blockbuster video game World of Warcraft?