Apple shares rally after mysterious Carl Icahn tweet
The veteran activist investor said he's sending an 'interesting' open letter to Tim Cook today.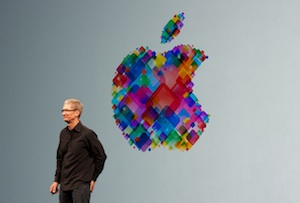 Shares in Apple shot up by more than 2% yesterday after billionaire investor Carl Icahn implied he was about to press CEO Tim Cook for more changes. Icahn, who holds a 0.88% stake in the company, tweeted that he would be sending Cook an 'interesting' open letter today.
Tmrw we'll be sending an open letter to @tim_cook. Believe it will be interesting.

— Carl Icahn (@Carl_C_Icahn) October 8, 2014
Last year, Icahn sent Apple's market cap soaring after announcing he held a significant stake and believed the company was overvalued, and its share price has risen by 50% since. He then pressed for a $150bn (£93bn) share buyback from the company, which is sat on vast wads of cash - more than the US Government in fact. The company relented with a $30bn buyback programme and share split. So being on the receiving end of an open letter from Carl Icahn probably isn't the thing Tim Cook is most looking forward to today.