Apple shares tumble 20% in two months
The market capitalisation of the consumer electronics giant has dropped by $130bn since the firm reached its all time high in September.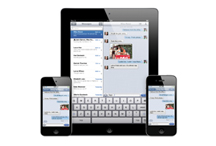 Has the Apple bubble finally burst? Are we sick to death of the same old boring yet amazing products? Well, not quite. The iPhone 5 is the fastest selling smartphone ever, and the firm's most recent financial statement does reveal some mind-blowing year-on-year growth. But the company briefly known as the world's most valuable has gone from a high of $705 per share on September 21 (the day iPhone 5 went on sale), to $555 today.
The company is facing growing competition from other consumer electronics giants such as Samsung, which has been pushing its Galaxy SIII smartphone very hard indeed – including using an advert mocking Apple fans for standing in line on product launch dates. Samsung has now sold more than 30 million of the new model; heads in Apple's Cupertino HQ must be turning. Meanwhile, Apple has just been order to pay a fine in the hundreds of millions of dollars over patents relating to its Face Time video-calling software. Apparently it has infringed the IP of a little-known US internet security firm. Oh yes, and there's the ongoing global spat with Samsung over patents for tablet PCs. Yeah, it's pretty messy.
Nevertheless, the news of the falling share price does not cut a stark figure against the rest of the markets. With the Barack Obama having won the US election yesterday, but with the two houses split roughly down the middle over how to fix the country's financial crisis, companies and markets everywhere saw share prices tumble by the end of trading yesterday. All 10 sectors in the broad Standard & Poor's 500 stock index fell sharply yesterday. Financial and energy sectors were hit hardest. Apple is probably not a direct victim of the election results, but with raised taxes and falling public spending almost inevitable during the next term, investors everywhere are wringing their hands.