Apple takes a bite out of Microsoft's business model
Amid all the shiny toys at last night's Apple launch was a devastating blow to Microsoft: free software. Ouch.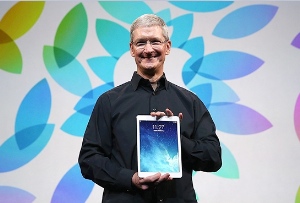 Last night, Apple chief executive Tim Cook launched its long-awaited new iPads. As it stood, the iPad Air (it has a 43% thinner bezel - it's everything we dreamed about) and the new iPad Mini (it's, er, also a bit thinner) were underwhelming. But Cook also announced a strategy that could prove fatal to rival Microsoft: free software upgrades. Gulp.

For years now, Apple's operating systems (OS X) have been named after big cats: we've had Cheetah, we've had Snow Leopard, we've had Lion. When they called the last one 'Mountain Lion', we knew they were running out of cats. Thankfully, instead of plumping for 'Ocelot', they gave up on the cats and called it 'Mavericks' instead. Good decision.

The most notable thing about Mavericks is that it's available to for free. As is Apple's Microsoft Office rival, iWork. That puts Microsoft in serious jeopardy: it may be moving slowly into hardware, but most of its profits still come from software. Windows 8 currently retails at about £50. Microsoft Office (admittedly seen as a lot more serious/better than its rival's) is about £100.

It leaves Microsoft as the last man standing when it comes to paid software. Google already has Drive, its free-to-use cloud-based system (although it is keen to sell extra storage space to anyone who will listen). Dropbox, which works on a similar model, has deals with Samsung and HTC to give away its software for free

What is interesting is how Cook sees Apple's position in the market. Analysts want him to be worried by Google and any manufacturer that uses its Android operating system, but last night he was more concerned with dinosaurs like Microsoft, HP and Dell.

'They chased after netbooks, now they are trying to make PCs into tablets and tablets into PCs. Who knows what they will do next?,' he mocked.

It's Microsoft's move: like Apple, the company has aimed its tablets at the top end of the market. And with fanboys' hysterical obsession for all things Apple cooling, this is its chance to make a big splash.