Apple will be in good company in Cambridge's tech cluster
The world's most valuable company is reportedly planning to open an R&D centre in East Anglia's 'Silicon Fen'.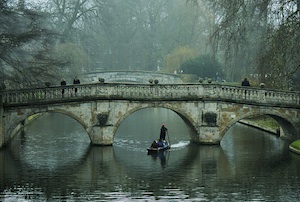 While much talk of Britain's technology sector focuses on East London's 'Silicon Roundabout', other clusters of digital businesses have sprung up around the country, from Bristol to Birmingham, Swansea to Sheffield.

The original and the most successful of these is Cambridge's 'Silicon Fen', which began to gather steam back in the 1990s and is now in fact regarded as the largest tech cluster in Europe. The 1,500 companies that make up Cambridge's tech industry employ 54,000 people and have combined annual revenues of more than £12bn, according to the university.

That perhaps explains the rumours that Apple is planning to open a 20-person research and development office in the city - after years of courting from the British Government, which has been desperate for the world's most valuable company to expand its presence in the UK. According to local Cambridge newspaper Business Weekly, Apple is expected to open its new office within a few weeks.

It will be in good company. Global giants Microsoft, Qualcomm and Huawei have all expanded their presence in Cambridge, not to mention the wealth of homegrown businesses.

Cambridge has spawned no fewer than 12 companies with a market cap of more than $1bn (£630m), and two with more than $10bn. The best known of these is ARM Holdings, a semiconductor and software which is now valued at £12bn. Autonomy, the enterprise software company founded by Mike Lynch, was bought by HP for $11.7bn in 2011 (although that was then written down by $5.5bn and the company accused of 'creative accounting').

It's not all electronics and IT either. Perhaps inspired by local researchers Watson and Crick who discovered DNA in 1953, Cambridge is home to a host of biotechnology companies such as Abcam, the £127m turnover company that makes all manner of antibodies, proteins and other medical products.

While London may have the lion's share of sexy digital startups, it's East Anglia that plays home to the solid, profitable success of British high-tech. Apple should feel right at home.