Is Apple's supply chain unethical?
Amnesty claims the cobalt used by smart phone makers Apple and Samsung could be obtained through child labour.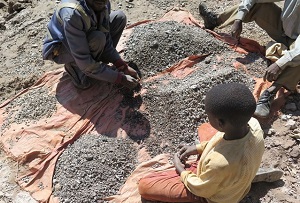 Suppliers of health food chain Holland & Barrett might think they had a raw deal being forced to stump up cash for organic security tags, but they've got nothing on Congolese cobalt miners. Some of the world's biggest companies, including Apple, Samsung, Microsoft and, yes, VW have been implicated in a child labour scandal involving their supply chain in the Democratic Republic of Congo.
The DRC produces over half the world's cobalt, which is used to make lithium batteries. A report by Amnesty found evidence that Congolese traders regularly bought cobalt 'from areas where child labour is rife' and sold it to Chinese-owned refiner CDM. The mineral is then allegedly used by three other Chinese firms to make components for the batteries that ultimately end up in your smart phone or laptop.
Aside from the major ethical concerns about selling products that could have been built on the backs of exploited seven-year olds, this is a clearly bad for business. As brand associations go, Apple would rather not see 'child labour' or 'hard metal lung disease' paired with 'iPhone'.