Apple's Tim Cook: Martyr or visionary?
Steve Jobs' suited successor, Tim Cook, may not excite the same quasi-religious fervour, but those who lament that Apple's heyday is behind it may yet be proved wrong.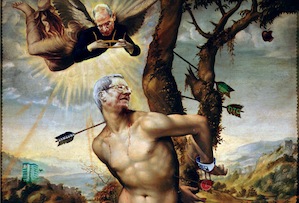 When Steve Jobs died on 5 October 2011, Paul Talbot, a tattoo artist based near Birmingham, had the company's striped 1980s Apple logo inked onto his foot along with the letters 'RIP'; his wife had a similar tattoo done on her ankle. Talbot says that he did this because 'I'm a huge Apple fanboy'.
Three years on and Talbot is still keeping the faith. 'As far as I'm concerned Apple remains the standard by which every other product is measured,' he explains. While expressing the hope that this will continue to be the case as the company leaves its iconic founder further and further behind, he adds: 'It's too early to tell.'