Apple's Woz stands up for the little guy on taxes
Apple co-founder Steve Wozniak says he wants companies to be taxed like individuals. That won't go down well with his fellow arch-nerds.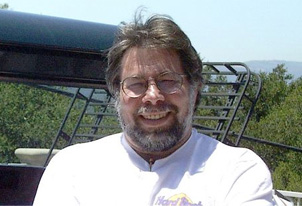 Apple co-founder Steve 'Woz' Wozniak may not have quite the cult following commanded by his late business partner, but over the years he has established a reputation as the gentler of the firm's two original Steves.

The Hardy to Job's Laurel, Woz famously divided up his own shares when, just before Apple listed on the stock market, Jobs refused to give share options to some of the company's founding members.

Now Wozniak, who hasn't worked for Apple since the 80s but, as a major shareholder, is still worth an estimated $100m, has spoken out against companies that don't pay their taxes, saying firms should be taxed in the same way individuals are.

'People are not taxed on profit, they are taxed on income,' he told an audience at the Millennium Forum conference in Londonderry yesterday. "Corporations should be taxed the same as people in my mind.

'That means corporations pay taxes on all of their revenues or people only pay it on a tiny amount called profit and until we rectify that, the whole problem is just with us forever.

'That is why the rich get richer and the poor get poorer and I am always for the individual being much more important than their training. [It's the] same reason I created the Apple computer at the start – it was to empower the little guy.'

Given the tax-based witch hunt going on in the UK, those comments will have resonance with consumers – although among Apple's tech peers, they might not go down quite as well. On Monday, Google head honcho Eric Schmidt said he was 'perplexed' by the ongoing debate over the £10m in taxes the company had paid to the UK government between 2006 and 2011.

How do uber-geeks settle a dispute, then? Is it still World of Warcraft? Or is that a bit last year…?