The Apprentice: Nick Hewer says out with the old, in with the older
Lord Sugar's long-suffering adviser Nick Hewer has suggested a new format for the next series of The Apprentice: a show focusing on OAPs.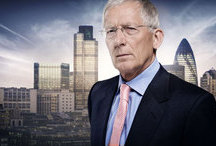 Following the success of Junior Apprentice and, more recently, Young Apprentice, Hewer believes there's a gap in the market for another reworking of the show. And this time, he reckons it's all about the veterans: the retired or semi-retired entrepreneurs and business people. 'That would be even more fascinating,' he says. 'See life experience get some of the spotlight.'
Speaking to The Sun this weekend, Hewer said: 'We have 20 weeks of it a year now. But is that enough? [Yes, plenty.] We need an old persons' Apprentice next, I think.'
And, all sarcasm aside, Hewer may have a point. In the wake of the ageism row at the BBC, and the general lack of understanding and sensitivity toward the older generation shown on the programme – remember Hip Replacement Magazine? – could it be time give the show a little maturity?