The Apprentice returns and is as diabolical as ever
Lord Sugar's search for the best of a bad bunch is back.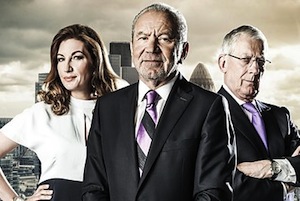 The Apprentice returned to our screens this evening and there were few surprises as the usual raft of cliche-laden characters was on standard form. The show began in typical style with Lord Alan pulling apart the most cringe-inducing passages from the candidates' CVs – from the predictable 'I could sell ice to eskimos', to the more puzzling 'I'm a combination of the Wolf of Wall Street and Gandhi.'
The teams had to flog a range of products, from sausages to rubber gloves and t-shirts, to traders and the general public. The sales strategy of the girls' team leader Sarah appeared to be mainly focused on looking pretty, as she urged her colleagues to don short skirts and lots of lippy. Genuine quote: 'Most people will buy from females because they're more attractive to look at.'
But Sugar reserved the worst of his ire for the boys' team's hot dog venture. Not content with dropping them in a bun and selling them for a huge mark-up, youngster Robert insisted they needed the sausages to be 'edgy' because they were on sale in Shoreditch.