Apprentice winner bucks the UK's tendency to talk in cliches
Think you're a motivated, innovative, proactive team player with an entrepreneurial skill set? Well, you and everyone else.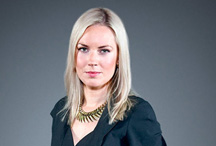 Or so says LinkedIn. The business networking site has revealed the words and phrases most commonly used in professional profiles by its UK-based members. It's not an enlightening read. Top of the list was 'motivated', closely followed by 'extensive experience',' innovative', and more of the old classics from 'proven track record', to 'dynamic'. And, of course, everyone's favourite: the 'team player'.
It's depressing to see that while the web may have revolutionised how we go about promoting ourselves to potential employers, we still havent learned to stop rehashing the same old tosh. Back when all our professional punts were made on paper, this is just the sort of uninspired stuff that would've had interviewers sighing and sticking it on the pile with all the rest of the 'maybes'.

These days at least companies like LinkedIn can track the mistakes everyone's making so they can do something about it. 'We wanted to reveal insights that help professionals make better choices about how to position themselves online,' said DJ Patil, LinkedIn's Chief Data Scientist. Good to see they're not employing cliches in their job titles.

The trick here, just as with a CV, is to be specific. State your experience, and tell people what you've achieved, whether thats increased sales, or clinching or managing key or difficult contracts. Kind of obvious really. Potential employers and collaborators care more about what you have actually done: LinkedIn reckons you're 12 times more likely to be viewed for potential opportunities if you have more than one position listed on your profile.

Anyone keen to avoid cliches could've benefited from watching the Apprentice, the final of which aired last night. Semi-final loser Stuart Baggs tried to sell himself to Lord Sugar because he was a 'big fish in a small pond'. He also described himself as a 'brand'. When told that was nonsense, he replied: 'I think I might be.' Then he employed that cliche of all cliches: 'I'm not a cliche.' Elsewhere Jamie Lester declared himself a 'key cog in a wheel'.

No surprise then that eventual winner Stella English has won plaudits for her straight-talking style. Good on her. Although this does of course ignore the spiel she used to launch her alcoholic drink. 'We saw a clear gap in the market for a dark-based spirit with contemporary appeal,' she said. 'We have reinvented bourbon and made it trendy, fashionable and exciting.' Not really that innovative, is it?