Archbishop of Canterbury rains hellfire on Wonga
Justin Welby has threatened to compete the payday lender out of business - but apparently chief executive Errol Damelin 'took it well'...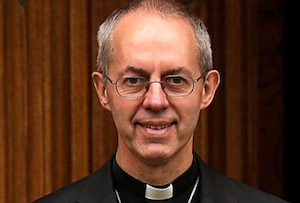 Instead of logging onto sites like Wonga, with their exorbitant interest rates, to bridge the cash-gap between paydays, people looking for loans could soon be rocking up to their local churches to borrow. That's if plans drawn up by the Most Rev Justin Welby go ahead. [Update: In a textbook example of being bitten on the bum, it turns out that the Church of England pension fund has a stake in Accel Partners, one of Wonga's original backers. Oops! More on that from our editor later on today..].

In an interview with Total Politics, the Archbishop of Canterbury vowed to use Britain's network of credit unions to squash payday loan companies out of existence. His plan is to help credit unions to play a more central role in providing small loans. The church could even offer its own buildings and schools for the purpose. Offering attractive credit returns might help them boost their attendance on Sundays.

The Archbishop has spoken a number of times about his concern over payday loan companies who may be seen to target vulnerable borrowers and slam them with excessive interest rates. Errol Damelin, the chief executive of Wonga, has been told directly by the clergyman about his plans to eradicate Damelin's business and those similar.

'I've met the head of Wonga and we had a very good conversation and I said to him quite bluntly "we're not in the business of trying to legislate you out of existence, we're trying to compete you out of existence." He's a businessman, he took that well,' Welby told Total Politics magazine.
MT doubts Damelin is quaking in his boots though, the Archbishop's plans are not likely to make much of a dent in his million pound business.
This is the second time this week the clergyman has hit the headlines. The former oil industry executive and member of the Parliamentary Commission on Banking Standards has been quite vocal on business issues. Earlier this week he defended bankers called their naming and shaming 'lynch mobbish'. With Wonga et al now warned, the question is who is next in line for the wrath of Welby.