Archie Norman to the rescue at ITV?
The new chairman of ailing ITV might not have much media experience, but he's a great talent-spotter.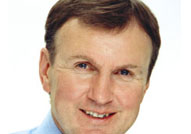 After several false starts, struggling ITV finally has a new chairman: ex-Asda boss Archie Norman is taking the helm from January, in exchange for a salary of £300,000 a year and a wad of 1.2m shares. In many respects, Norman has an impeccable CV: Cambridge, the City, Harvard, successful stints at Woolies and Asda, the first FTSE 100 boss to be elected to Parliament… Although he failed to set the world alight during his time as a Tory MP, and the eagle-eyed amongst you will notice that there aren't any media companies on that list. On the other hand, Norman's most important task will be to appoint a new chief exec – and as talent-spotters go, there aren't many better…

ITV has had all sorts of trouble appointing a replacement for outgoing boss Michael Grade, with at least two people (Sirs Crispin Davis and Michael Bishop) turning down a role that many see as a poisoned chalice. But Norman knows all about turnarounds. As FD of Woolies, he helped double its share price by rebranding the group as Kingfisher (after fending off a hostile bid from Dixons). And during his eight-year stint as CEO of Asda, he cut 5,000 jobs in the course of transforming the ailing supermarket chain into Britain's second-biggest, before selling it to Wal-Mart for a tasty £1.6bn. Nor does he seem too concerned that he came to this process quite late – 'I don't care if I am the first choice or the fifty-first choice,' he insisted today.

So why ITV, and why now? Well, for someone with a track record like his, he's been a touch removed from the business front line for a while: he spent eight years as an MP (which he admits didn't quite work out as planned: 'It was great fun, but it's true: I did not play the role I'd liked to have played', he told MT back in 2007), and since standing down in 2005, he's been working with his own investment vehicle Aurigo, whose most high-profile investment is tool hire business HSS. He also has a strong public service bent – 'I believe that a conservative society is one in which people volunteer to help others and public duty is valued' – which might explain why he's willing to give ITV a go. Plus his political connections will come in handy if the Tories win the next election.

But since his first job will be to find a new CEO (interim boss John Creswell says he's not hanging around and working for someone else) perhaps the key thing he brings is a reputation for recruiting and refining management talent: the likes of Allan Leighton, Richard Baker, Andy Hornby, John Pluthero and Justin King all learned their trade under Norman. Finding another up-and-coming young thruster that can give ITV the shake-up it clearly needs is probably the best service he could provide.

Click here to read MT's exclusive interview with Archie Norman back in 2007.

In today's bulletin:
MT meets Marc Bolland - the new chief exec of Marks & Spencer
Archie Norman to the rescue at ITV?
Counter-bid rumours sweeten Cadbury share price
Mothercare (baby) booming as it plans expansion
Psychology at Work: Promoting well-being is not just a sticking plaster