Argos to close or move 75 stores, says owner
The parent company of Argos has announced plans to close or move at least 75 of its stores over the next five years as part of a restructuring.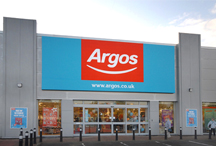 Home Retail Group, which owns the catalogue retailer, is hoping gradually to convert Argos into a digitally led retailer, ditching its traditional catalogue model. It also wants to move its stores onto shorter leases so that it can jump around different locations more easily. In the near term the firm plans to close 10 stores, and no new premises will be opened.
You might ask what has brought on this sudden change of tack. Well if you include the group's other large retail operation, Homebase, there is a storm a-brewing. The home wares chain reported a 6.2% fall in like-for-like sales compared with last year, thanks to dampened sales of gardening and outdoor goods during the wet summer. This, and the effect of recession on Argo's lower-income customers, has caused group revenues to fall 1% to £2.53bn, and pre-tax profit to fall 37% to £17.9m. That, in case you didn't notice, is an absolutely miniscule margin.
So, let's consider Argos' plan to shake things up. The plan, overseen by the chain's new MD, John Walden, is to reinvest £300m over the next three years into pushing the company into competition with Amazon and the large supermarket groups. Around 10% of the chain's 750 will be shed as and when leases expire, and this will be offset by an increase in the amount of stuff available to buy online. Walden said: 'Our catalogue represents a big part of our business, so it would be foolish for us to pull it. But the trend towards digital is pretty obvious. The catalogue will evolve, not disappear.'