Argos sticks it to Amazon with same-day nationwide delivery
The retailer still has plenty of fight left in it.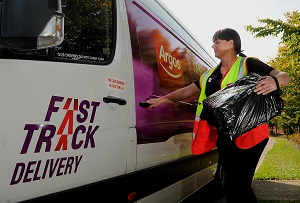 The rush to speed up online delivery is getting crazy now. Amazon Prime's next-day option is no longer good enough, it would seem. After the ecommerce giant launched one-hour delivery in central London earlier this year, Argos has upped the ante by launching Fast Track, a same-day delivery service for (almost) the entire country.
That's right. Customers in every UK city and most rural areas will be able to get any of 20,000 Argos products delivered before 10pm the same day, as long as their order is placed before 6pm. Unlike Amazon Prime's £79 annual subscription, Argos will charge just £3.95 per delivery. Although Fast Track isn't totally nationwide (such short delivery times would be virtually impossible in parts of the Scottish Highlands), Argos says it covers 95% of all UK households.
That's not an easy undertaking. Amazon's one-hour service is viable in central London because everybody is so close together, but offering same-day deliveries nationwide isn't so straightforward. Argos is in a decent position to do this because of its massive network of more than 800 stores, where the orders will be dispatched from. While Amazon has just eight (albeit huge) fulfilment centres in the UK, Argos is spread as far and wide as Penzance, Anglesey and even the Outer Hebrides. It's also speeding up its click and collect service, which it says will put 'products in customers' hands within 60 seconds.'