ARM unveils latest 'super-chip'
ARM, the jewel in Britain's electronics crown, trumps mighty US chip-maker Intel with a new processor aimed at the lucrative smartphone market.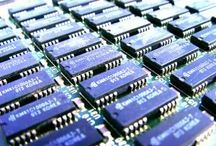 Grunt versus energy. It's the ultimate tug of war of the modern age; electronic dualism if you will. How do you make your computer smarter, faster and more robust without sucking away at battery life? Well, egad, ARM has cracked it.

The Cambridge-based IP giant has had yet another eureka moment, patenting a new kind of processor that promises to be the most energy-efficient 'application class processor' of its kind. This next-generation architecture has been dubbed Big.LITTLE.

Not to blind you with science but, in a nutshell, Big.LITTLE processing allows devices to seamlessly select the right processor for the right task. A bit like an electronic orchestra playing a complex score. Each component knows exactly when to come in and when to stop so that the tune sounds just so and none of the musicians end up with bleeding fingers. Previous chips produce a metaphorical cacophony.

The catchily-named Cortex-A7 chip also delivers five times the energy-efficiency and is one fifth the size of its predecessor, making it the perfect widget to power future smartphones. This is ARM's sweet spot: the firm already licenses its technology to around 95% of the smartphone market.

And ARM's also got another ace up its sleeve: this new processor is totally bargaintastic. With this new microchip, future smartphone devices will be available for less than US$100 by 2013, ramping up accessibility and increasing uptake across the developing markets. That means, literally, billions of new customers.

'As we look forward these smartphones are going to be totally ubiquitous,' ARM CEO Warren East told BBC News. 'In the much less developed areas, such as Africa, you will see smartphones becoming tools that people use to make their lives easier,'

The Cortex-A7's dance card is already filling up, with Samsung, LG, NVidia, Compal, Broadcom and Texas Instruments already signed up to put the processor through its paces. This means record results are on the cards for the chip-maker, which already posted bumper revenues in the first half: £233.9m to July, up from £192.3 in 2010 with pre-tax profits at £104.9m. And, as ARM has recently been the subject of several bid rumours, Big.LITTLE may make the firm an even tastier prospect to any potential suitors out there...