Published: 02 May 2017
Last Updated: 10 May 2017
Photography by Harry Borden
He's the boss of one of the world's most successful chip design businesses and the closest thing to an Apple, Microsoft or Oracle that the UK tech scene has managed to produce, but Simon Segars is not one for public display. Despite the fact that he's just enjoyed a hefty £11m windfall as a result of the controversial £24.3bn sale of ARM to Japan's SoftBank last summer, there's no limo, no entourage and definitely no corner office. In fact if it weren't for his name on it, the door to the ARM chief exec's personal cubbyhole could be mistaken for the broom cupboard.
Compact, windowless and decidedly no-frills, the flat-pack look furniture and institutional carpet make a striking contrast with the plush lair of MT's last interviewee, Google's Matt Brittin, replete as it was with chic chairs, green shag pile 'grass' and even a faux garden spade jutting out of the floor in one corner.
Both highly remunerated UK tech grandees, but only one conforming to stereotype: ARM occupies a very different part of the techniverse to the bouncy multicoloured search giant. One where reticence rules and client confidentiality is king.
'We don't have a consumer brand, we are a B2B business that is built on trust,' says Segars. 'We are dealing with many semiconductor companies who are competing with each other. I may be privy to someone's product knowledge but we can't say to another guy "Oh God, I wouldn't do that if I were you" because of what we know. We've got to keep those secrets.'
Although ARM designs clever chips for mobile phones and other high-tech gadgets, it doesn't make them, licensing their manufacture to giants like Apple, Samsung, Nvidia and Qualcomm. It's an intellectual property company whose assets are what's inside the heads of its 4,000 or so employees, and the relationships they have built up with its customers.
It's a model that has in many ways worked incredibly well for the business, which Segars joined way back in 1991 only months after it was founded. In the subsequent decades it has built itself a privileged position as a kind of trusted non-combatant in the otherwise hyper-competitive smartphone wars. Its customers may be deadly rivals with one another but they all buy their chip designs from ARM.
And buy they certainly do - an estimated 99% of the world's mobile devices have ARM tech at their hearts, including every generation of iPhone and very nearly all Android ones, up to and including the new Samsung Galaxy S8. ARM was even voted Britain's Most Admired Company in the coveted MT poll last year.
When it was announced that the firm was to be sold to SoftBank last July, it was concern about this hard-won independence which was uppermost in Segars' mind. 'It was always hard to get your head around who might acquire ARM that wouldn't spoil us,' he says. 'But the deal progressed pretty quickly to the point where as a board you just can't say no.
'But in my mind I'm also thinking, what does this mean to our partners? To our employees? To the business we've built up?'
SoftBank is the giant Japanese telco-turned-investment-vehicle ruled over by the charismatic Masayoshi 'Masa' Son, Japan's richest man who enjoys a reputation as a risk-loving 'crazy guy addicted to the future'. He takes big bets, loves a good aphorism and claims to be driven by a '300-year vision' for his empire, centred on the rise of AI as a transformational force for good. Those cute Pepper robots with the big manga-style eyes? They're one of his, and barely even the tip of the tip of the iceberg.
So Segars wasn't the only one to be worried - there were plenty of others who feared that any purchase might compromise ARM's neutrality, undermining its ability to sell to allcomers. Those worries are unfounded, he says. 'When you are being courted, you never know quite how it is going to pan out, but I have to say that everything Masa said about how he wasn't going to come and interfere (with running the business day-to-day), they have been absolutely true to their word. They haven't spoiled the neutrality and our discussions are all about strategy and growth.'
It helped that Segars knew his new boss already, 'I first met him in 2006, they had just acquired Vodafone in Japan,' and also knew that he had wanted to buy ARM for a decade or so, but hadn't quite been able to afford it.
But in the intervening years Son had not been idle, an early $20m bet on Chinese ecommerce start-up Alibaba having come spectacularly good to the tune of an estimated $58bn.
Shifting stakes in a couple of smaller gaming firms plus $8bn worth of his precious Alibaba stock got the ARM deal over the line.
All the same, Segars admits that when the approach was made, it was a bit of a spit your coffee out moment. 'He rang me up and said he'd like to meet with me and my chairman. So we ended up having lunch in Turkey, of all places.'
An avid dealmaker, Son holds stakes in a dizzying array of businesses including a Japanese baseball team. A listed company, SoftBank's market cap rose by a whopping 577% between 2009-2014. But fuelling his ambition has led him to rack up $120bn in debt. And the first dotcom crash cost him $77bn, reckoned to be the biggest single personal loss ever.
The news was not only a surprise to employees and customers - the sale of the UK's largest homegrown tech firm to a foreign buyer inevitably attracted a lot of negative comment. Would a British buyer going after Sony or Toshiba be so welcome in Tokyo, asked critics?
ARM's progenitor and paterfamilias of the Cambridge tech scene, Hermann Hauser, even went so far as to describe the sale as 'A very sad day for technology in Britain'. In another recent interview he cautioned, 'What happens when he (Son) retires? Will his successor have the same attitude to ARM?' A new boss could well mean new favourites in the SoftBank stable.
Segars isn't having any of this - there are no barbarians at ARM's gates as far as he is concerned. 'People were writing things like "All the profit's going to be sucked out of ARM and the UK isn't going to benefit" but we're still hiring like crazy here. This is still our HQ and we're growing it, just like we said we would.'
It's a good deal for ARM and the UK, he says, both because of the guarantees offered (SoftBank says it will double the number of ARM employees in the UK, currently around 1,600, and that the firm's nerve centre will remain in Cambridge) and also because of the freedom of action that no longer being a plc affords.
'All that's really happened is that we've gone from having thousands of shareholders to having one. And even when we had thousands, about half of the shares were held overseas anyway - the perceptions about ARM's ownership and the reality were slightly different.'
One shareholder means faster decision-making, less time spent managing investor expectations and more time for thinking big thoughts about the future of technology.
'We will be able to grow more quickly and to do more. Now, if there's something we want to do or someone we want to go and acquire, it's a conversation with Masa and we go and do it. For me and my team that has been pretty liberating and motivational.'
Why was SoftBank so keen to get its hands on ARM's tech in the first place? Well, unlike conventional processors, the ones that Segars and his colleagues design offer a double whammy of key attributes: plenty of processing muscle, plus very low power consumption for decent battery life. Without ARM our phones would run flat in minutes rather than hours.
But Son is famous for his grand plans, and it is likely that he has a bigger role in mind for his new toy. It's hardly the sort of early stage bet SoftBank is best known for after all, the chances of discovering a vast well of hidden value in a FTSE 100 firm that analysts have been poring over for 18 years being pretty small.
---
---
The next big boom sectors will be the connected and then autonomous car, says Segars, plus the much vaunted Internet of Things, which will see devices, from cars to toasters, hooked up to the internet over the coming decades. 'There are going to be a trillion connected devices ranging from mining in South America to a light bulb there in this building. So there's a growing opportunity to deploy ARM-based technology in all sorts of computers - big ones in the cloud, and tiny ones in the devices that are going to create the Internet of Things.'
ARM needs to catch this wave, not only because the world has probably got almost as many smartphones as it wants now, but also because bigger and noisier chip giants like Intel are starting to move in on its territory and produce their own low-power consumption designs. But the miniature wireless sensors which will be required for the Internet of Things will have to run off even tinier currents, and that is where ARM can still win.
'Energy efficiency matters. It matters in your TV because it reduces the cost and it matters in a data centre because of the explosion of data that's coming. You've got to get more energy efficient so that society can benefit,' he says.
How big is the opportunity presented by the Internet of Things? 'It's going to be very big. People are predicting the end of the decimal system because there just aren't numbers big enough, there's no term to express the amount of data that is going to be flowing around.'
Taking full advantage of this next phase of growth requires not only agility and technical excellence, says Segars, but also absolute discretion, because the number of commercial rivals who are also his customers is only going to increase. Hence his insistence that ARM remains somewhat in the shadows and allows its customers to bathe in the limelight.
'I don't want anybody going "Well, I would use ARM, but they are such a bunch of arrogant so-and-sos,"' says Segars. There seems little chance of that - despite the fact that he and his senior colleagues shared a reported £54m bounty from the sale, ARM is still a company run by people who look and behave more like teachers or research profs than tech execs.
Segars himself is mild-mannered and unassuming, very much the ordinary bloke from Basildon, for all that he has lived in California for some years and has two degrees and several patents for 'embedded CPU architecture' to his name. Even when things go wrong, 'There are no people throwing teacups across the room. This is a pretty left brain place,' he admits.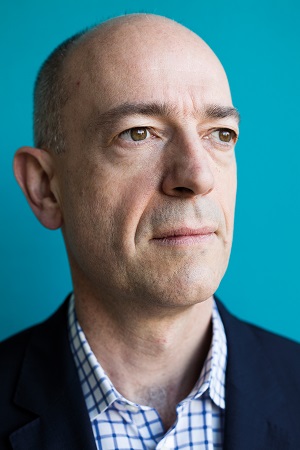 All this modesty is very English, but can you take it too far? ARM's achievements are worth shouting about after all - an incredible 4.3bn people, 60% of the global population, touches a device with an ARM chip in it every day. By the end of this year, over 100bn of its chips will have been made since it set up shop 27 years ago. And you can buy ARM-powered gadgets in more countries than can furnish you with that other icon of consumer progress, the McDonald's burger (196 vs 118). Although unless you're in the habit of taking your mobile gadgets to bits, you'll never see the firm's logo on any of them.
Critics say it should be more assertive, that it doesn't charge enough and that considering how fundamental it has been to the smartphone revolution, ARM should be much bigger. In 2015, it made profits of £406.1m on revenues of £968.3m - not bad but hardly comparable to the tens of billions in profits earned by its biggest customers.
It's something that Segars refutes, but ARM's preference for an ultra low-profile existence does seem out of step with the ceaselessly chattering world it has helped to create. 'Is pricing going to go up? No. Is the business model going to change? No. We've been true to our word and it's not a conversation I have with people any more.'
Nothing to scare the horses then. But there's the question of the SoftBank Vision Fund. Last year, partly in an effort to control all that debt, Son did a deal with the Saudi royal family for a promised $45bn to create a separate entity, SoftBank Vision Fund, an investment fund through which to channel all those big bets on the future. His audacious goal is to raise $100bn.
Ostensibly nothing to do with ARM, whose parent is SoftBank Group. But in Son's world, everything is connected, and according to the FT he has already agreed to sign over a 25% stake in ARM to the Vision Fund, getting him about $8bn closer to that $100bn target (as well as providing a hint that finding enough genuine early stage opportunities to soak up all that dosh isn't going to be easy).
So ARM could also take on another new role as a funnel for investments, spotting and vetting potential acquisitions to help further Son's wider ambitions.
SoftBank Vision's advisers stress that no such transfer has been confirmed, and nor will it be while the fund remains open. But it's a sign that life for ARM as part of the empire of a swashbuckling billionaire who has global leaders on speed dial is quite likely to get more complicated, and perhaps more distracting, than it has been in the past.
In the meantime, Segars is more than happy to have Son on board. 'Now we're part of SoftBank, Masa views the world in exactly the same way. A huge volume of chips, the Internet of Things being the next wave of computing, let's go do it faster and bigger. ARM and SoftBank are totally aligned.'

The roots of ARM's success lie back in the late 80s, born out of two failures and the hard won lessons they brought. The first was the failure of Acorn Computers and its BBC Microcomputer to take over the world in quite the way that its founders had hoped. Licensing the technology rather than making it themselves might have allowed Acorn to scale faster and gain a foothold in the then-emerging global PC market.
The second was the failure of the first real product to use an ARM-designed chip, the ill-fated touchscreen 'Personal Digital Assistant' Apple Newton. ARM was formed as a JV between Acorn, Apple (yes them again), and VLSI to design the energy efficient processor that lay at its heart. The chunky gadget was a commercial flop, but it was a proof of concept for ARM and when the first generation of digital mobile phones came along, the clever new chip met the application it had been waiting for.
The only adornment on the wall of Segars' spartan office is a framed print of the circuitry of an ARM 7 chip, the first that he had a hand in designing. 'Probably 30 billion of them were made, they were in every GSM phone for a decade,' he says.
Tall and angular, Segars grew up in Essex. After a degree in electronic engineering at the University of Sussex, he left a safe but unexciting job at telco STC to join ARM in 1991, then a tiny start-up with an uncertain future.
'When ARM started, we were just a bunch of engineers in a barn in the Cambridgeshire countryside. But I was interested in designing microprocessors; I'd known the BBC micro at school, and the fact that I got to do it in the UK was phenomenal.'
He was employee number 16, and it was clear that he was in for a pretty DIY existence - on his first day he was met by the sight of his boss soldering together a computer for him to use. 'We had to take a deliberate step to be a global business from the outset, to get on a plane and go to see our customers. Some of them were in the US and some in Asia, so we opened up offices there very early. We did it out of necessity, the recognition that if we didn't we'd be doomed.'
With around 4,700 employees in 45 countries, it remains a highly globalised and talent hungry business. And so the prospect of Brexit, especially hard Brexit, has come as a very unwelcome shock - he is on record as having stated that if a law was enacted requiring every UK employee to be from the UK, then ARM would fail.
'We have a lot of people here from mainland Europe, and a lot of UK nationals who are married to people from continental Europe. It's very unsettling for them.
'The words that the government have given us have been reassuring, but there is no history and no experience to draw on. We'll just have to see what happens, nobody actually knows.'
His own life is typically peripatetic, living as he does with his family in Palo Alto, and spending much of his time split between home, Silicon Valley, Cambridge and visiting customers and offices around the world.
Since he took over from his predecessor Warren East (now CEO of Rolls-Royce) in 2013, he hasn't been blessed with a great deal of spare time, he says, but what he does have he likes to spend with his wife and three kids, age 19, 12 and nine.
What was the last thing you did together, I ask? 'I did some electronics with my 12-year-old. He had to do a school project so we made a Theremin.' (For those of you who don't know, a Theremin is an esoteric musical instrument invented in 1928, played not by touch but by waving your hands at it.)
'We went online and ordered some bits, put them altogether on a breadboard and it worked. We had some fun with that.'
Why aren't there more firms like ARM in the UK? For one thing if there were, then the sale of the odd one would not generate so much attention. It's all down to the Silicon Valley magic he says. 'It's hard to put your finger on it, but you sense it when you are there. There's only two degrees of separation, everyone you meet, the parents of my kids' school friends, they're all doing something really interesting. You get a virtuous circle of founders starting other successful companies, getting access to capital and the company they came from backing them. It's very self-sustaining.'
There are also a great many more bosses like him, he says - people from a technical background running a technical company, and who have been with that same company for a long time. 'In the Valley even the non-technical bosses you talk to are technical. I'm not an unusual person there, and ARM would not be an unusual company there, although it is an unusual company here.'
It's clear that this quiet man of tech thinks that more of that kind of meritocracy would go a long way towards redressing the balance in the UK's favour. He might have a point.
THREE CHALLENGES FACING SEGARS
To convince its customers despite being under new ownership ARM can still be relied upon to keep their vital commercial secrets
To take advantage of the freedom of action afforded by its new owners, but also to strengthen the Cambridge connection
To get a smarter office
SEGARS IN A MINUTE
1967 Born in Basildon, Essex. Attends Woodlands Comprehensive School
1986 Joins telecoms firm STC as an engineer
1990 BSc in electronic engineering, University of Sussex, sponsored by STC
1991 Joins ARM as employee no 16
1996 Takes MSc computer science, University of Manchester, working on low power processor design for ARM
2001 Vice president, engineering, ARM
2007 Executive vice president, ARM
2013 CEO, ARM
2016 ARM sold to SoftBank of Japan for £24.3bn.