The arts contribute billions to our GDP - so why aren't we investing?
The UK's cultural industries contribute billions to our GDP and the Coalition should make sure they get the investment they need, says Baroness Kingsmill.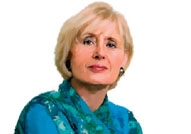 Art can change our perspective on life, the world and even business. It can encapsulate universal human instincts and feelings. Giotto's 14th-century painting depicting Christ expelling the money-changers from the temple shows us how bankers have been regarded through the centuries.
This is a favourite subject that has been revisited and reinterpreted by many great painters, such as El Greco, whose wonderful representation hangs in the National Gallery, and its artistic and political resonance has culminated, perhaps, in the recent Occupy movement on the steps of St Paul's Cathedral.
Art and culture can help to reframe our response to events and teach us important lessons. Henry V's call to action at Agincourt is said to have provided a template for George Bush's 'Axis of Evil' speech after 9/11, but it could also be seen as a model for any corporate leader trying to rally colleagues to give their all for the sake of the company.