Arts Council chair Sir Peter Bazalgette: 'Arts and culture are growing twice as fast as the economy'
The MT Interview: Chairing the Arts Council may seem an unlikely role for the producer of Big Brother, but he's thrown himself into the job with enthusiasm. In fact, has he gone native?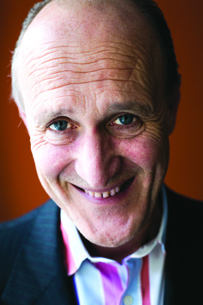 In the end, it's not so much about the art as the words. Sir Peter Bazalgette, multi-millionaire television producer and chairman of the Arts Council of England, has enough for everyone.
'What was it like when I came here?' he repeats, gesturing around the Arts Council offices. 'My preconceptions were similar to other people's, which is that, quite properly, the Arts Council is the careful spender of other people's money, either the taxpayers' or the lottery's, therefore it is something of a bureaucratically heavy, box-ticking, process-driven organisation, and that's what you hear from the bodies that are funded by it. I was chair of the English National Opera, and it was funded in part by the Arts Council ...'
Baz, as he's known in TV circles, is in his element: describing, organising, setting out his thoughts, almost as if pitching a concept for sale. Moments earlier, while having his photograph taken, he had provoked gusts of giggling from his comms team by lecturing them in his plummy voice on the link between finger length and sexual proclivities.