Asda kicks off Christmas retail price war after latest sales hike
As it enjoys another quarterly sales hike, Asda plans to save its shoppers an extra £150m this Christmas.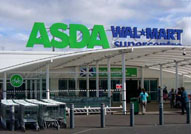 It's full steam ahead for Asda in the run-up to Christmas: Britain's second biggest supermarket chain said like-for-like sales were up nearly 6% in the three months to September, pushing its market share up to 17.3% (according to TNS). And it's determined to be the sector's biggest winner this festive season: it claims that its various price cuts and discounts - on everything from sat-navs to food - will save customers as much as £150m in the coming weeks. Since this will presumably force the other big supermarkets to try and compete, that bodes well for cheaper Christmas shopping...

Rather strangely, Asda seemed very keen today to give The X-Factor credit for its latest sales hike – apparently its figures have been boosted by nine million of its customers opting to stay in on Saturday night to watch the Simon Cowell Karaoke Show, and stocking up on food from Asda beforehand (particularly the ready-to-eat stuff). But it also emphasised that – according to MySupermarket.com, at any rate – it's cheaper than all its big rivals. And its promotions also seem to be going well: following a recent offer on nappies, it reckons it's now responsible for the continued dryness of one in four babies' bottoms. Cheeky.

Nonetheless, it's expecting competition to be fierce this Christmas, with CFO Judith McKenna suggesting this year could be 'the most aggressive on price in a decade'. That £150m worth of discounts will start with a big electricals sale – which probably has a lot to do with the fact that rival Tesco has just cut prices on 50 of its own technology products. And it's not just the supermarkets who'll be sucked into this – WH Smith (which reported another fall in high street sales today) said it would also be cutting prices in the pre-Christmas period. Which should be good news for bargain-hunters…

Meanwhile Asda hopes to corner a very specific demographic: its own staff. It announced today it would be thanking staff with a £16m 'Christmas benefits package' – which on closer inspection turns out not to be cash, but (inter alia) an extra day off, a £20 gift card and a doubling of their normal staff discount. In other words: incentives for them to do their Christmas shopping at Asda, and even a day in which to do it...

In today's bulletin:
Asda kicks off Christmas retail price war after latest sales hike
Has Ian Livingston stopped the rot at BT?
Are UK firms being ripped off by insolvency practitioners?
Editor's blog: Do nurses need to be graduates?
Directors pass the buck to senior managers